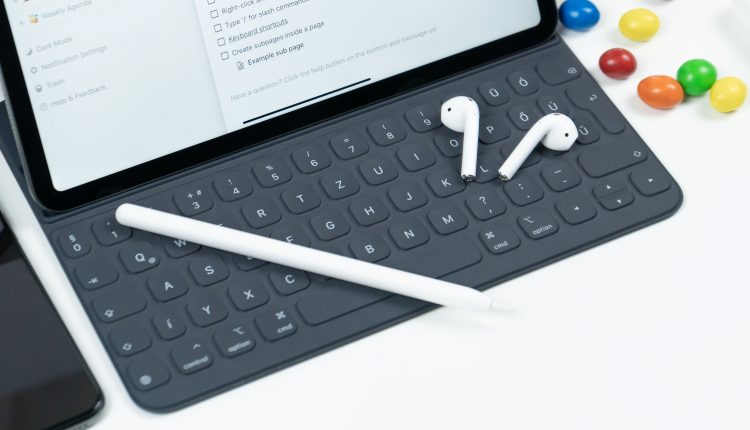 The Best iPad Pro Keyboard in 2020
A few years ago, Apple launched a series of products that is now the gold standard of tablet computers. Between the basic iPad, the iPad Mini, and the iPad Air — there's something for everyone in their lineup. However, the iPad Pro is, by far, the most capable device of them all, mostly because of its size. You can comfortably read, play games, stream content, and even work on it.
Still, a touchscreen keyboard is the one thing that's preventing iPad Pro tablets from being perfect. The larger these things get, the more awkward it is to type on them. After all, you can't really feel which keys you're hitting if you don't have a physical keyboard. Fortunately, that particular problem is easy to deal with — simply get the best iPad Pro keyboard you can find.
Features to Look for When Shopping for the Best iPad Keyboard
There are a few things to keep in mind while on the hunt for the best iPad Pro keyboard. First, there are several different kinds of keyboards that would be compatible with the iPad. Most Apple devices can actually connect to most Bluetooth-enabled keyboards.
However, it's also possible to transform the iPad Pro into a little laptop, simply by getting a protective case that includes a keyboard. Even in that category, there are significant differences. For example, while some products look and perform like regular folio cases, others have hard covers and firm joints, like the ones on a real laptop.
Furthermore, before purchasing a keyboard case, you should consider the size of your device. The most recent versions in the iPad Pro lineup are the 3rd Gen devices that launched in late 2018. There are two sizes — one that's 11 inches and another that's 12.9 inches diagonally.
Most importantly, these two have significantly slimmer bezels, and therefore, more screen space than their predecessors. So avoid cases that correspond with the size of your device but block half an inch around the screen.
Additionally, the 3rd Gen iPad Pro devices are compatible with the Apple Pencil 2, which magnetically connects to the right-hand side of the tablet. So, if you own that particular stylus, you'll need to limit yourself to cases that have a gap there.
Your Personal Preferences
As always, you should also consider your personal preferences. Every product on the list below is good enough to be pronounced the best iPad Pro keyboard. They all have the basic QWERTY key layout — although none of them are spacious enough to have a numeric pad. Furthermore, most of them have mechanical, scissor-switch keys, so they will compress upon contact.
You should also consider the conditions you usually use your iPad in. For example, if you often work at night, you might want to get a keyboard with backlighting options. There are even some products that offer several different color settings.
Speaking of colors, keyboard cases don't only come in black. But don't worry — you'll find plenty of those kinds of options below.
Best iPad Pro Keyboard for 3rd Gen Devices (2018 Launch)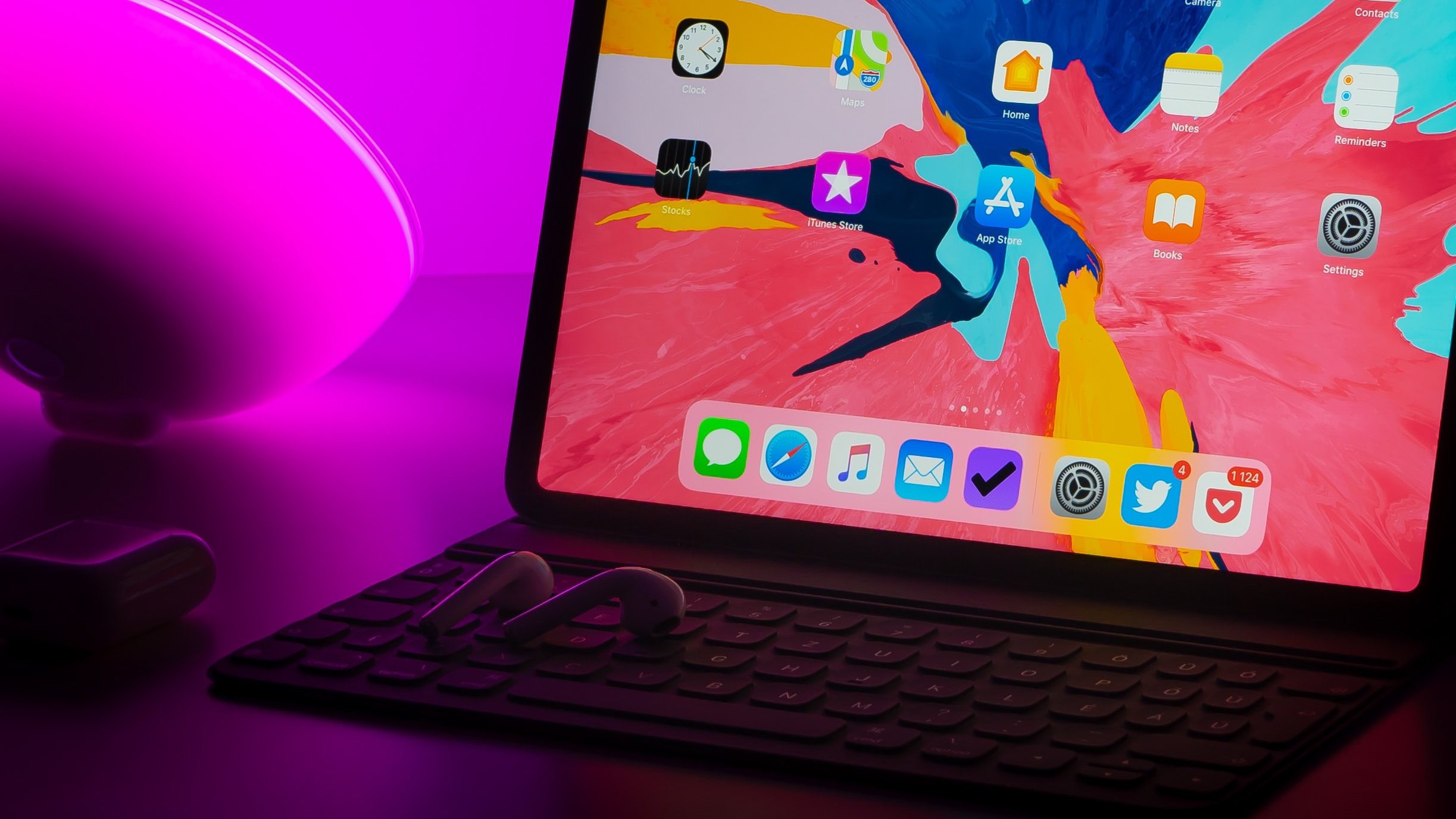 As mentioned, there are three general types of products you might run into if you go looking for the best iPad Pro keyboard. The list of recommendations below begins with several examples of synthetic leather folio cases that come with a keyboard. Then, you'll see some keyboard cases that'll make your iPad Pro look like a laptop. Lastly, the final three products on the list are external keyboards. So let's begin!
The first item on this list is a seemingly simple folio case with a wireless keyboard. The product is available in two sizes, corresponding to the 3rd Gen iPad Pro devices. There are slight design differences between the 12.9 and 11-inch versions of the case, but they're otherwise quite similar overall.
The magnetic cover can trigger the auto sleep/wake function of the screen. The case can also double as a stand thanks to the kickstand that pulls away from the back. It'll even elevate the keyboard slightly to give you a better typing angle.
Furthermore, there's a stylus slot in the space between the iPad Pro case and the keyboard. However, you can also keep it on the magnetic spot on top of the iPad device, if it's a 2nd Gen Apple Pencil.
Both versions of the case are available in several colors.
Because the CHESONA keyboard case is another folio-style product, it has some similarities with the first item on this list. However, there are plenty of features that make it unique.
For one, this case doesn't rely on a kickstand to prop up your iPad Pro. Additionally, the keyboard that comes with the case is detachable. A powerful magnet keeps it attached to the case cover, so you can move it around and even adjust the viewing angle.
Similarly to the previous product, this one also comes in the 12.9 and the 11-inch sizes. Both of those are available in a variety of colors. Furthermore, it has a similar spot for the stylus at the bottom of the hardback case, as well as a gap in the case where you can attach the Apple Pencil 2 to the iPad Pro.
The final entry for the title of the best iPad Pro keyboard in the category of folio cases is this Ztotop case. It has many of the same features of the previous product: a PU leather exterior, a detachable and movable keyboard, and Apple Pencil 2 charging compatibility. There are also two sizes: one that fits the 12.9-inch iPad Pro and another that fits the 11-inch one.
On top of that, this case also has a hand strap, which will come in handy when you fold the cover over to use your device in tablet mode. Since the cover is also magnetic, it will trigger the iPad's auto sleep/wake function.
Lastly, there's an organizer pocket in the front. Overall, this is a pretty ideal choice for an iPad you'll often take to work with you.
Earto may not be a famous tech brand, but if it keeps putting out products like this one, it may become one soon. Its keyboard case can truly transform your iPad Pro into a laptop. This one is fairly regular, as it can only flip to an angle of up to 135 degrees. Well, that only goes for the larger version of the case — the smaller one is more flexible.
The 12.9 and the 11-inch cases do have slight differences between them, but they're essentially the same product. For one, while both are available in black and rose gold, the bigger version also comes in purple. Additionally, they both have backlighting options that support multiple colors, though the specifics differ. Finally, each version has Apple Pencil 2 charging compatibility and the auto wake/sleep function.
Just like the smaller version of the previous product, the ONHI keyboard case (you can choose the size on the page) is incredibly flexible. The case that holds the iPad Pro is attached to the keyboard with a rotating joint in the middle of the device. It actually allows for 360-degree rotation, and it can fold over if you want to use it in tablet mode.
When you do use the keyboard, you'll find it incredibly comfortable. It's even stylish, thanks to the backlighting settings that allow you to adjust the colors. Additionally, it comes in several colors and sizes.
It should be noted, though, that this case weighs about three pounds on its own. Don't let that surprise you — it's fairly standard for this type of product.
The LENRICH keyboard case consists of a hard case that goes onto the iPad and a backlit keyboard. Like the previous product, this one also allows you to swivel your screen all the way around and flip it to use it in tablet mode. As usual, the manufacturer made allowances to enable Apple Pencil 2 charging.
The case comes in two sizes, and the models are slightly different. For example, the 12.9-inch case doesn't have a visible company logo above the keys, while the 11-inch one does.
Everything else is fairly standard. The keyboard has a separate charging port, and you'll be able to get about 45 hours of use out of a charge, even if you use the backlighting feature.
The Snugg keyboard case is possibly the best iPad Pro keyboard you can get if you want to make your device look like a laptop. It's available for both 3rd Gen sizes, as well as a previous version of the 12.9-inch iPad and 10.5-inch devices.
This product has everything you need it to have. It can fully rotate on the central hinge that connects it to the keyboard. You can also choose your viewing angle or flip the case over completely to use the iPad as a tablet. The keyboard is also nicely backlit, allowing you to work all night long. And on top of that, you'll be able to use your 2nd Gen Apple Pencil with it.
Logitech products have ended up in many "best of" articles, so you might as well go for the best iPad Pro keyboard the company has. The K480 Bluetooth keyboard is one of the three external keyboards featured on this list. However, it's not exclusively an Apple-compatible product — it can connect to Windows and Android devices as well.
In fact, it has a little dial on the top-left side above the top row of hotkeys that allows you to switch between three different devices. So you can connect it to your PC, your phone, and your iPad at the same time.
But this keyboard is famous for more than its aesthetically appealing key shape and ability to switch between devices. One of its most striking features is the slot located near the top of the keyboard, which is lime-green on the black version of the keyboard, and gray on the white one. The slot is there to hold whichever device you put in it. However, while an 11-inch iPad Pro would fit in it, the 12.9-inch version is too wide for it, at least in the horizontal mode.
The Arteck universal keyboard may not have a device slot like the Logitech one does, but it has plenty of other features to recommend it. First of all, the keyboard is just under 10-by-6 inches, so it should comfortably fit into the same bag where you keep your iPad Pro.
Unlike the previous external keyboard, this one has seven backlighting colors with two brightness levels. In addition to the auto-sleep feature, the keyboard also has an off switch in the top-right corner above the keys. You can shut it down when you're done with it to preserve the battery. However, you shouldn't need to charge it more than a few times a year.
In general, these kinds of keyboards work well when you have a separate stand or a case for your iPad Pro, as then you can adjust the viewing angle.
Now, this product from Jelly Comb is the best iPad Pro keyboard for people whose stuff is already spilling out of their bags. This little keyboard will fit right in. It's only 5.6-by-4.2 inches when it's folded in half — and only 0.18 inches thick! Like the other external keyboards on this list, this one is universal, so it works with iOS, Android, and Windows devices.
Just take it out of the pocket, press the connect button on the left, and pair it with your device. Even though the keys are still in a QWERTY layout, they are split right down the middle. You'll just have to get used to that, but don't worry — it shouldn't take too long. When you finish typing, just start folding the keyboard, and it'll finish closing on its own thanks to its magnetic closure.
A single battery charge lasts for about 30 hours of active use or 18 days of standby mode. It also comes in three colors — all black, silver with black keys, and silver with white keys.
Final Thoughts on Finding the Best iPad Pro Keyboard
The next step is up to you: figure out which kind of keyboard you can work on, and go for it. There are plenty of options to choose from! Will it be a separate external keyboard, a detachable one that comes in a folio case, or one that will turn your iPad Pro into a laptop? Whichever product you end up getting, just make sure that it's the best iPad Pro keyboard for your needs.